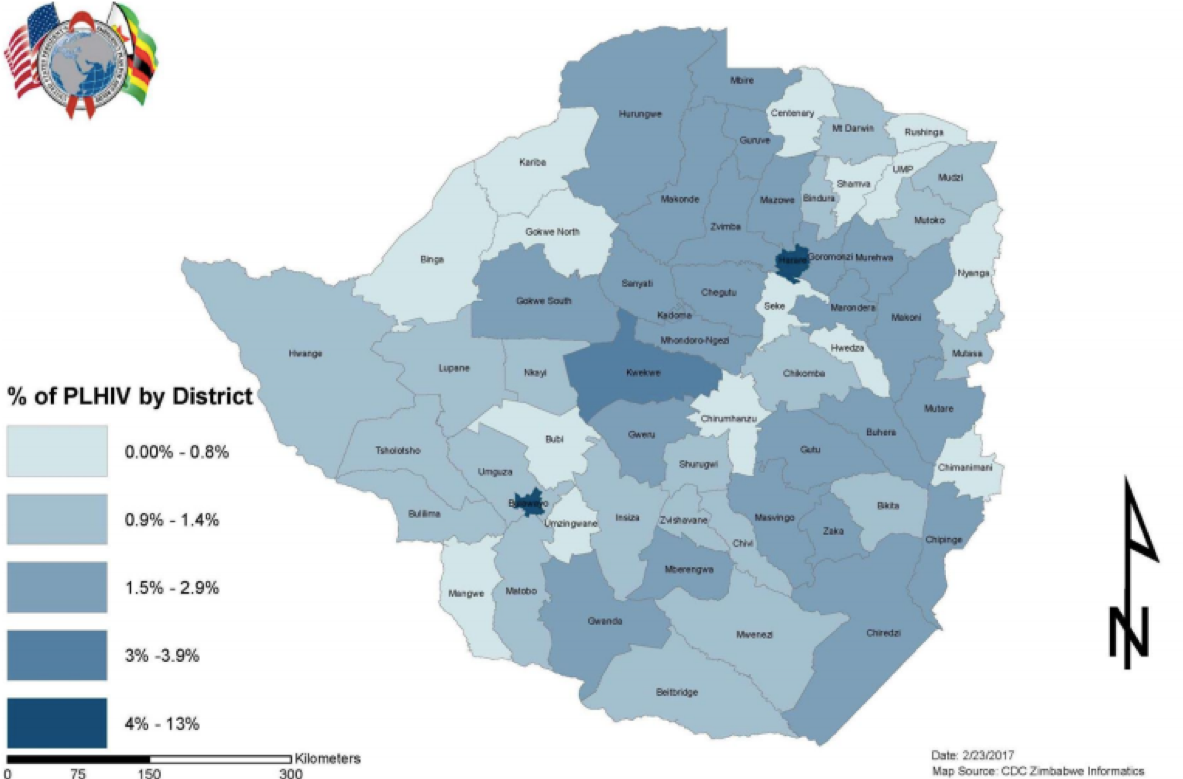 The Guidelines for Antiretroviral Therapy for the Prevention and Treatment of HIV in Zimbabwe (2016) recommend the initiation of ART for all persons living with HIV (PLHIV) regardless of clinical stage and CD4 cell count. Early initiation of ART is associated with clinical and HIV prevention benefits, including improved survival, preservation of immune function, decreased incidence of opportunistic infections, and reduced risk of HIV transmission. However, challenges to early HIV treatment initiation, adherence and retention in care are numerous and solutions must be identified locally to successfully implement Treat All in Zimbabwe.
With support from PEPFAR through HEALTHQUAL, the Ministry of Health and Child Care decided to accelerate the implementation of Treat All. The ART4ALL Collaborative was designed to initiate all PLHIV on ART in 27 health facilities in Harare, Chitungwiza and Epworth from January 2017 to June 2018. This approach was chosen because it offers an organized structure to enhance routine improvement through rapid cycles of testing changes and peer learning. Based on the knowledge gained through identification of the successful strategies that led to meaningful improvement, the Ministry of Health and Child Care aims to spread these interventions broadly throughout the country.
Methodology
The ART4ALL model was adapted from the Institute for Healthcare Improvement (IHI) "Breakthrough Series" consisting of planning, implementation and spread phases.
Planning phase: Design and planning meetings were held
Implementation phase: Three learning sessions (LS) and two action periods (AP) were held where teams tested change ideas using Plan, Do, Study, Act (PDSA) cycles.
Spread: Development of the change package and rolling out to other facilities.

Results
(March 2017 to June 2018)
Average monthly rates of new-to-care clients initiated on ART within 7 days of diagnosis increased by 17% (69% vs. 86%)
Average monthly rates of newly diagnosed HIV+ clients initiated on the same day of diagnosis increased by 27% (54% vs. 81%)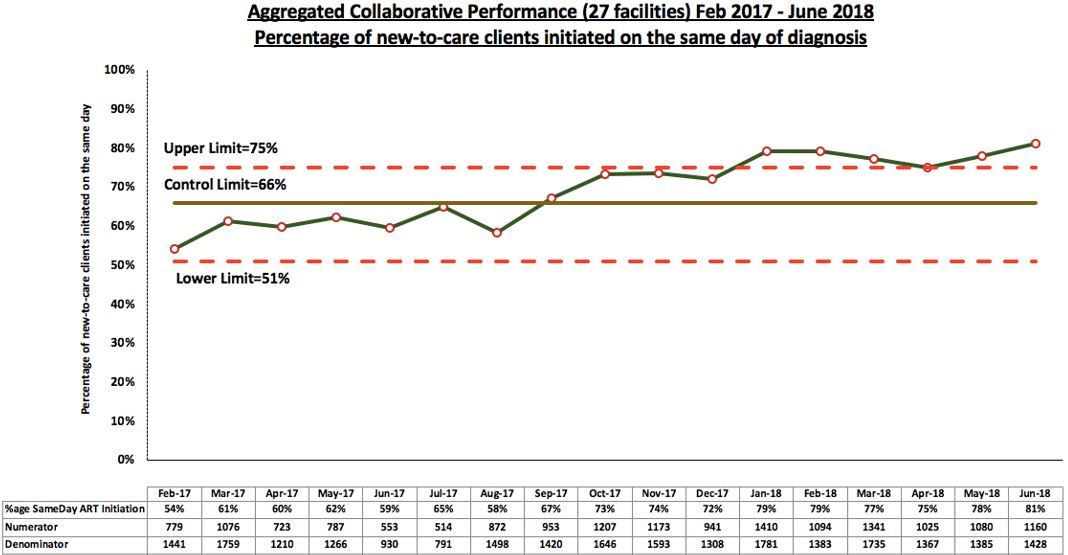 Rates of newly initiated ART clients who had a viral load at 6 months increased by 27% (16% vs. 43%)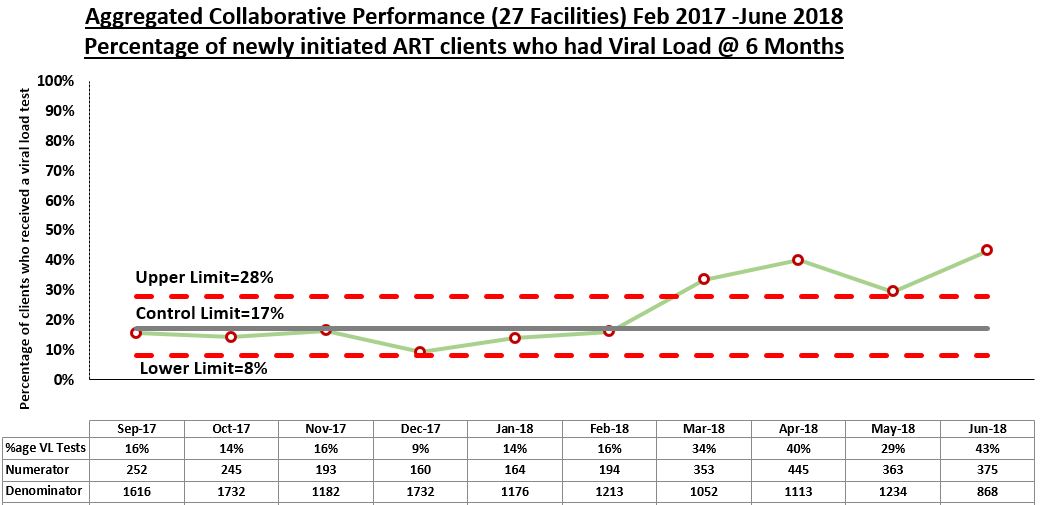 Average rates of newly initiated ART clients who achieved viral suppression at 6 months remained consistently above 90% for the duration of the Collaborative and over 90% of clients who receive their viral load test results within a month are virally suppressed.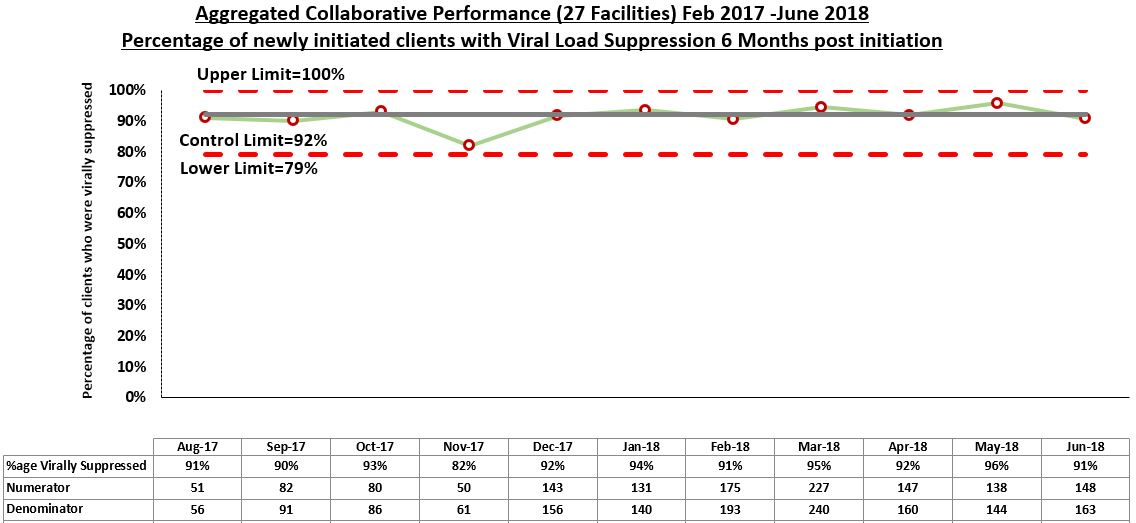 Changes
Key changes implemented to ensure early ART initiation, early retention in care and VL uptake and suppression rates include, identifying and bringing back to care previously-in-care clients, compressing counselling sessions, streamlining processes before ART initiation, integrating services, expanding access to services, engaging expert clients and staff to escort patients between service areas, leveraging prompts and reminders for care at the point of service and delivering services through differentiated care models.
The Collaborative has strengthened the structures to support QI implementation at health facilities that addresses identified gaps and achieves results leading to reaching the UNAIDS 90-90-90 targets.
ART4ALL Measures*
ART Initiation (new to care)
ART Initiation (previously in care)
Missed Appointments (<=3 months)
Missed Appointments (6 months)
Viral Load Monitoring
Viral Load Suppression
* Indicators based on MoHCC Guidelines for antiretroviral therapy and for the prevention and treatment of HIV in Zimbabwe (2016)