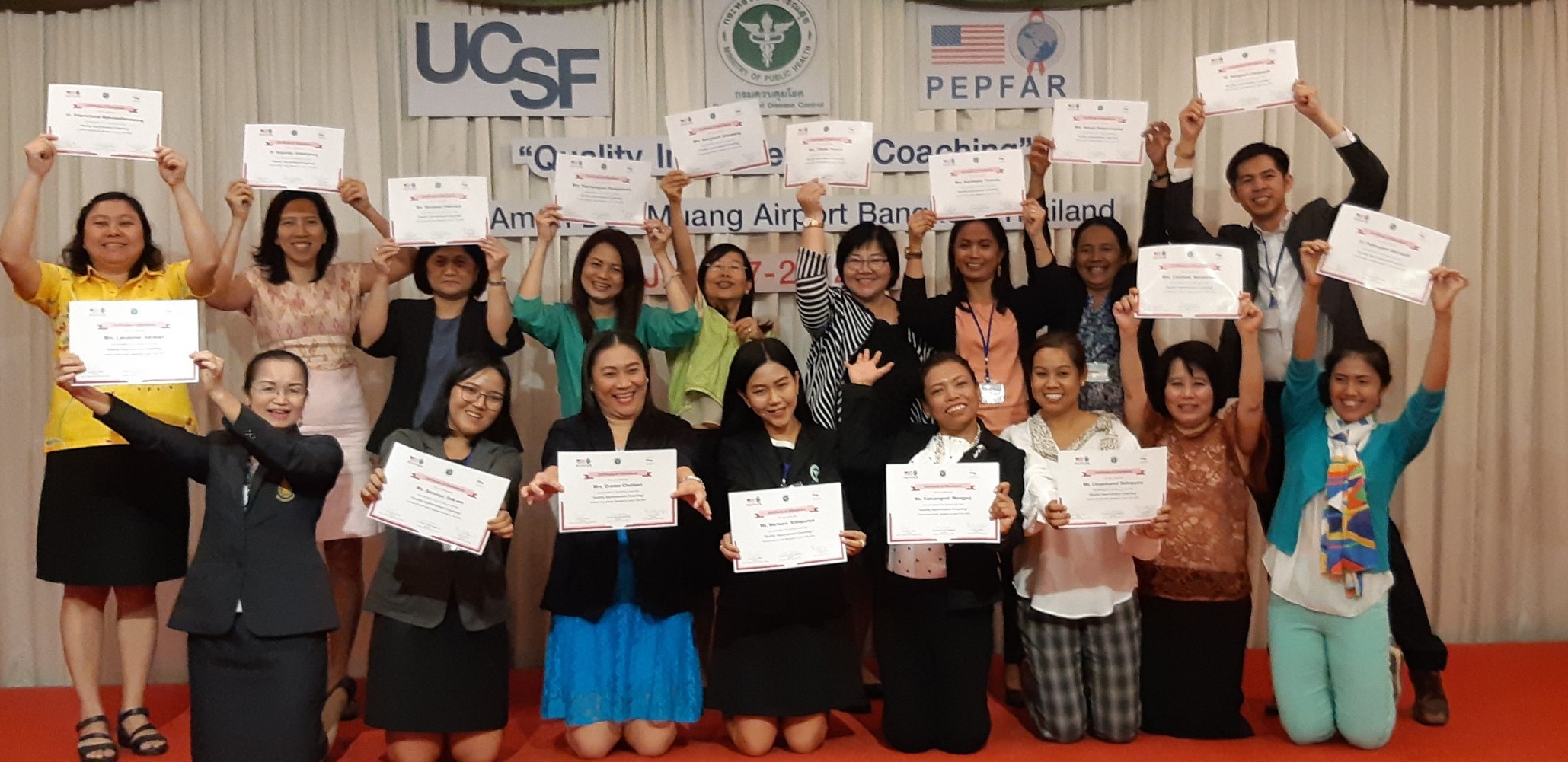 In April 2018, UCSF-HEALTHQUAL convened a QI coaches training in Lao PDR with stakeholders that included the Center for HIV/AIDS and STI (CHAS) and ART
sites who were joined by HEALTHQUAL's Director, Dr. Bruce Agins, Dan Ikeda, Senior Program Manager, and master QI coaching trainer Kathleen Clanon, Agency Medical Director for Health Care Services in Alameda County, California.
The Training of Quality Coaches was part of a 5-day program, supported by UCSF-HEALTHQUAL, that is designed to help QI program staff become more effective coaches for their programs, maximizing the impact of their QI program work to achieve the 90-90-90 targets that will lead to HIV epidemic control. This work is part of HEALTHQUAL's broader work in Lao to build quality management program capacity and to finalize a national QM plan.
The Lao Training of Quality Coaches focused on building the basic skills and qualities of effective coaches. 
These include:
Quality Improvement Skills; experience with data analysis, improvement processes and quality improvement work in the field, as well as skills and resources for continuing to learn as the science evolves.
Program Management Skills; the ability to manage a complex work plan and document and communicate results usefully and accurately.
Interpersonal Communication Skills; effective listening skills, ability to make and communicate objective assessments of team and leadership work in a professional and non-judgmental way.
Self-reflection Skills; ability to identify one's own areas of expertise and knowledge deficits, to understand one's personality style and to assess strengths and opportunities for improvements and how they influence reactions to others.
As part of these trainings, the HEALTHQUAL model for QI coaching certification was introduced as a mechanism for ensuring a capable and continuous supply of QI coaches in the Lao PDR HIV program. Certification offers Ministries of Health a method of ensuring that QI coaches meet standards and to ensure that they maintain the necessary qualifications for QI coaching. In this way, certification becomes a component of the national HIV Quality Management Program.