Third Multi-Country Learning Network Meeting
T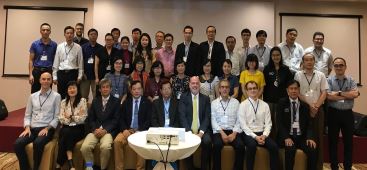 he third multi-country exchange meeting of the Southeast Asia Stigma Reduction QI Learning Network was convened on September 13-14, 2018, in Ho Chi Minh City, Vietnam, with representatives from National and Provincial Ministries of Health, U.S. Centers for Disease Control and Prevention (CDC) country offices, civil
society organizations, and local implementing partners in Cambodia, Lao PDR, Thailand, and Vietnam.
The objectives of the meeting were to:
Present country-specific baseline of healthcare worker surveys and updates on implementation of S+D QI activities
Discuss the use of patient feedback in QI activities, and present approaches for routine collection
Facilitate interactive discussions on challenges related to implementation of QI activities to reduce S +D in the healthcare setting, routine collection of patient feedback, and linkage of S + D reduction activities to clinical measures aligned with UNAIDS' 90-90-90 targets
Discuss sustainability of Network activities, and identify topics for future meetings.
Conduct a site visit at Pham Ngoc Thach Hospital, an early adopter of stigma reduction activities in Vietnam, and discuss its approach to implementation of S + D QI activities and plans for sustainability.
Present experiences of the Vietnam Network of People Living with HIV (VNP+) in planning and implementation of S + D reduction activities in Ho Chi Minh City.
Present experiences of Ho Chi Minh City Department of Health (DOH) in implementing and managing S + D reduction activities.